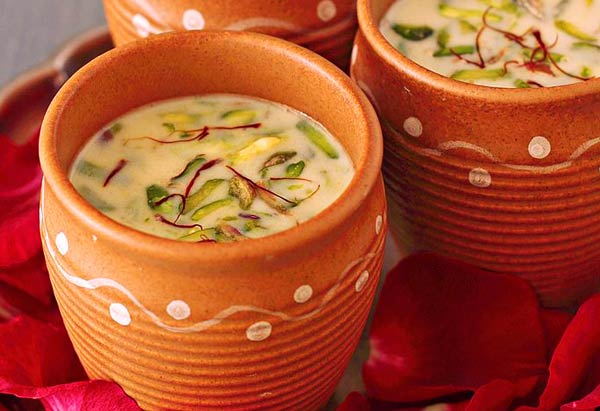 Easy Thandai Recipe : 
 Thandai is the most popular drink in India especially during the festival of colours "HOLI". Holi is incomplete without Thandai. Thandai is a natural energy booster and also good for pregnant women(do not make in cold milk).It is made from dry fruits, saffron, and milk and also known as Sardai in some parts of India.  There are many different types of thandai and different ways to make them, but today we chose a traditional thandai recipe. You can also check 
Special Holi chutney recipe
for this
Holi Season
! So lets's start with an easy traditional thandai recipe.
Soak time: Overnight | Prep time: 15 mins | Cook time: 20 mins
INGREDIENTS FOR thandai recipe
1 Litres Full cream milk
5 tbsp Sugar
Saffron strands (Kesar)**
2 tbsp Melon Seeds (ming)
Almonds (badam) & Cashews (kaju)**
1 tbsp Poppy Seeds (Khas Khas)
1 tbsp Fennel seeds (sauf)
15 Whole White peppercorn 
A pinch Black Pepper powder
1/2 tbsp Green Cardamom (elaichi) Powder
**There are no measurements of these ingredients. The ingredients can be increased or decreased as per your preferences.
HOW TO MAKE THANDAI RECIPE STEP BY STEP
Take a big bowl. Add 25 pieces of almonds, 10 pieces of cashews, 1 tbsp of fennel and poppy seeds, 2 tbsp melon seeds and 15 whole white peppercorn to it. Add water and leave it for a night. All ingredients should be immersed in the water.
Next day, take all ingredients out from the water with the help of strainer and peel the almonds.
Take a grinder jar and add all ingredients in it. Add a pinch of black pepper powder and half tbsp of cardamom (elaichi) powder to it. Add few tablespoons of water and blend it till the smooth paste. When Paste is ready keep it aside until needed.
Our

thandai paste/syrup

is ready. You can also store it in refrigerator and use when you want to make thandai.
Now take a deep bottomed vessel. Add 1 liter milk to it. Turn on the gas to medium and boil the milk. Stir it occasionally to prevent the milk from catching at the bottom.
When the milk starts to bubble, add 5 tbsp sugar to it and turn the flame of gas to low.
Now add the paste (step-3) to it and simmer it for five minutes more. The consistency of the milk will become thick.
Switch off the gas and leave it. Set aside to cool.
When it cools down, Strain the Milk with the help of strainer.
Now add a pinch of saffron strands to the milk and keep it in the refrigerator for 2-3 hours.
After 3 hours, Thandai is ready. Garnish it with chopped dry fruits or with rose petals.
Try Thandai recipe on the special occasion of this hoil and share your colorful comments with us. You can also try Holi Special Recipes. Wishing you a very Happy and colorful Holi!!