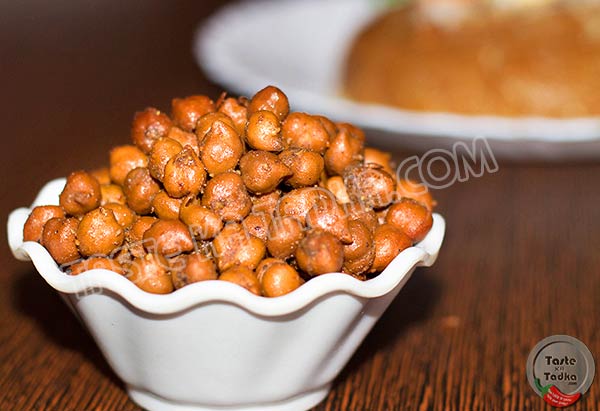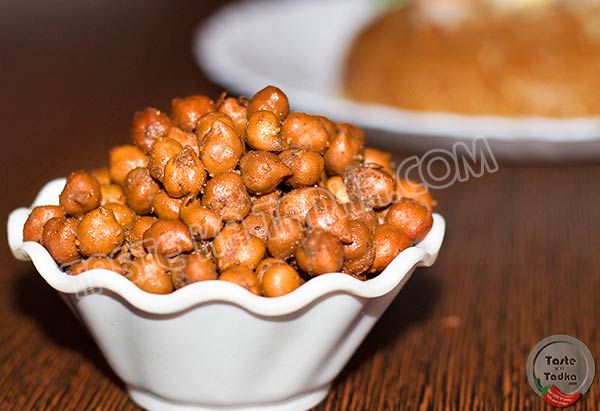 Sookhe Kale chane is usually made during the Navratri Ashtmi Pooja in north India. Kale chane are considered as Ashtmi prasad with sooji ka halwa and puri. Ashtmi is the eight day of Navratri. On this auspicious days, devotees perform a ritual which is known as Kanjak Pujan. In this ritual, nine girls are invited to households and worshiped as goddesses. Kale Chane are also known as black chickpeas. It is a rich source of protein and high in dietary fibre. And today we are going to learn how to make Sookhe Kale Chane (Dry Kaale Chane) without onion and garlic. Sukhe Kale chane with halwa is a one popular combination, specially in Navratri. You can also check navratri vrat recipes.
It a very quick and simple recipe. We will make channas with the regular spices, there is no need of fancy ingredients. Do not add green chilies as we are making it for kids.
Sookhe Kale chane Recipe Video
Click here for the Kanya Bhog On Maha Ashtmi. I also make aalu tamatar ki sabji(bhandare wali) in Ashtmi bhog.
Lets start with the recipe steps by steps with the help of pics.
Soaked Hrs:  6-7 hrs | Prep time: 5 mins | Cook time: 40 mins
INGREDIENTS FOR kale chane
Kale Chane – 1 cup
Baking Soda – 1/4 tsp
Clarified Butter – 1/2 tbsp
Cumin Seeds – 1/2 tsp
Red Chili Powder – 1/4 tsp
Garam Masala – 1 tsp
Salt – 1 tsp
Black Salt – 1 tsp
Dry Mango Powder – 1 tsp
HOW TO MAKE sookhe kale chane
QUICK STEPS :
Take 1 cup kale chane and clean them.
Soak the kale chane overnight for 6-7 hours. Add 1/4 tsp baking soda and 1 tsp black salt to it. Chane should me sub-merged in water. Mix well. Do not forget to cover them.
After 6 hours, rinse the chane and boil them in the presser cooker by adding 1 tsp white salt and 3 glass of water for about 30 minutes.
Pressure cook it for 15 minutes on high flame , then turn the flame to low for 15 minutes.
After 30 minutes, turn off the flame and when steam vanished totally, open the lid and drain the water.
Keep it aside.

Take a kadhayi /pan and add 1/2 tbsp clarified butter to it.
Turn on the flame and let it heat.
Now add 1/2 tsp cumin seeds and allow them to sizzle.
Add 1 tsp garam masala and immediately add chane to it.
Mix Well.
Add spices- 1/2 tsp black salt, 1/4 tsp red chili powder and 1 tsp dry mango powder.
Simmer it on medium flame till it gets dry completely.
Stir in-between.
It will take 4-5 minutes.
Soohke Kale chane are ready.
Serve hot with poori, chapatti, parathas.
Check for more
navratri recipes
,
fast recipes
.