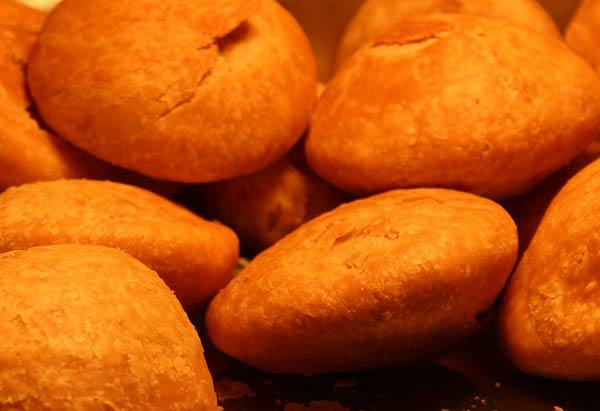 Khasta Kachori Recipe | Indian Snack Recipe : Hey folks, today we are going to learn how to make Khasta Kachori (stuffed balls). Kachoris are deep fried puffed up puris which is stuffed with lentils and aromatic spices. It is a popular-mouthwatering snack and we also prepare kachoris at any major festivals. It is a street food and a perfect Holi snack that you can share with your family and friends. There are different types of kachoris like moth kachori, sabji wali kachori, khasta kachori, raj kachori, pyaaz kachori etc. But during the time of festivals we do not have much time, so I am sharing a simple but delicious kachori recipe. You can also check Holi special recipes for this Holi Season! So lets's start with delightful yet simple and easy Khasta Kachori recipe.
 Prep time: 30 mins | Cook time: 30 mins
INGREDIENTS FOR Khasta Kachori
To make dough
All Purpose Flour – 2 cup
Semolina (Rava/suji) – 2 tbsp
Salt – ½ tsp
Baking Soda – 1/2 tsp
Clarified Butter (ghee) – 4 tbsp
Water (lukewarm) – to knead dough
To make stuffing
Coriander powder – 2 tbsp
Fennel seeds – 1 tbsp
Red chilli powder – 1/2 tsp
Asafoetida – 1/3 tsp
Dry Mango Powder (Amchur) – 1 tsp
Green coriander – 2 tbsp (finely chopped)
Salt – 1 tsp (or to your taste)
Garam masala – 1/4 tsp
Cumin seeds – 1/2 tsp
Cashews
Oil for deep frying
Skinless Black Gram – 1/2 cup (soaked for 3-4 hours)
HOW TO MAKE Khasta Kachori
QUICK STEPS :
how to make kachori dough
Take a big bowl and add all purpose flour to it.
Add semolina to it to make kachori crispier or khasta. Add salt, baking soda and ghee(known as moyen).
Start rubbing the mixture between your palms or fingers so that each and every particles gets coated with the ghee. Moyen act as a binder.
Add little lukewarm water and start knead the dough. Bring the mixture together into a hard dough and avoid lumps.
Dough is ready. Cover it with damp cloth and keep it aside for 10-15 minutes.
To make stuffing
Boil soaked grams(dal) and coarsely grind it. Drain the excess water.
Chop cashews in small pieces. Chop coriander leaves finely.
Take a pan and add ghee to it. Heat it on medium flame and start adding ingredients to make stuffing.
Add cumin seeds and asafoetida and allow them to sizzle. Now add coriander powder, fennel seeds, red chili powder, dry mango powder, salt, garam masala, chopped cashews and chopped coriander leaves.
Mix well and simmer until water from dal has evaporated.
When done, turn off the flame and let the mixture cool enough to handle.
ASSEMBLING KACHORI
Take a little portion of dough and roll it between your palms to even them.
Roll it between your palms and try to make the dough little more tight.
Dust it with some flour.
Flatten the ball with a rolling pin or belan so that they are thinner around the edges and thicker in the centre.
Place 2 tbsp filling on it and bring the edges together to form a closed ball.
Press lightly and try to flatten out gently with a rolling pin.
Do same with the rest of dough.
Kachoris are ready to deep fry.
Take a deep non stick pan and heat the oil.
Now drop 1 or 2 kachori at a time carefully.
Flip it occasionally to make sure that it cook from both sides.
Deep fry till it turns golden brown in color on medium flame.
Bring it out of the oil with the help of slotted ladle on tissue paper or kitchen towel to absorb extra oil.
Now deep-fry the next slot of kachoris in the same manner.
Let it cool so that it gets little hard and flaky.
Our Holi Special Snack Kachori are ready. Serve with ginger tea, green coriander chutney, tamarind chutney, tamatar ki khatti meethi chutney or aalu ki sabji.
You can also have it with holi special chutney.
Check for more Snacks Recipes in India.