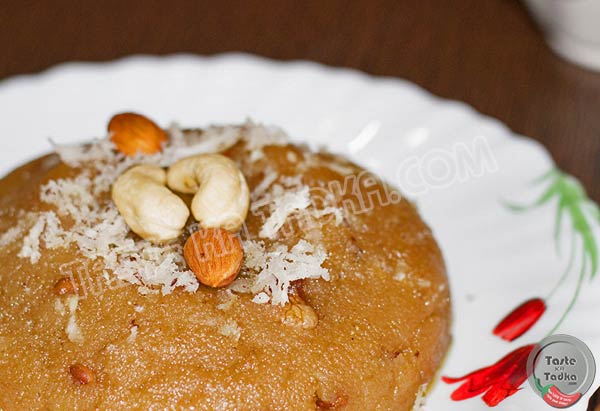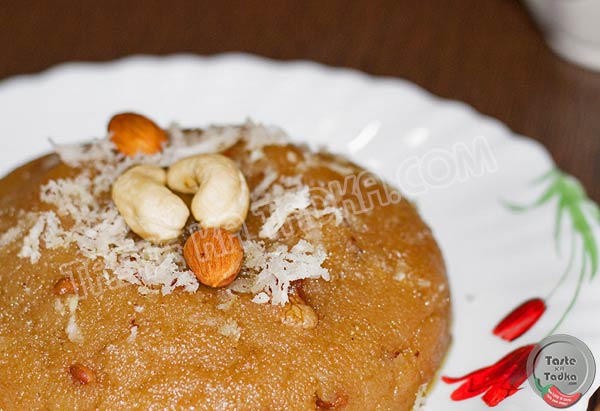 Sooji Halwa Recipe : Hello guyz ! This Navratri, I am back with one more amazing dessert recipe – Sooji halwa. Suji ka halva is a very popular Indian sweet dish which is usually made on a religious occasions as a prasad (offering to god). It can be made by using easily available ingredients such as ghee, sugar and sooji(rava). You can also garnish it with some dry fruits which will make it more tastier and healthier. The best thing about about this beverage is that it serves as a perfect dessert and it can be made in few minutes. Many people confuse between Sooji halwa and Rava Kesari. They both are basically same but different in the flavors and quantity of the ingredients. Here in sooji halwa which is also known as rava sheera/halwa, I have added cardamom. But in rava kesari as per the name I prefer to use kesar/saffron threads to give orangish color to rava kesari. The quantity of desi ghee and replacement of water with milk also differs rava kesari to Sooji halwa. So let's start to make Suji ka halwa.
Prep time: 10 mins  |  Cook time: 10 mins |  Serves : 5-6
INGREDIENTS FOR sooji halwa
Semolina (sooji/rava) – 1 cup
Gram Flour – 1/4 cup
Sugar – 1 cup
Water – needed
Clarified butter – 2 tbsp
Grated Coconut 
Coconut
Cardamom Powder – a generous pinch
HOW TO MAKE Sooji halwa
PREPARATION & COOKING :

Take 1 cup semolina and 1/4 cup gram flour and sieve twice. Now chop dry fruit – cashews, almonds. Soak raisins in warm water. Take dried coconut and grate them or crush them(optional).
Take a thick bottomed pan and add 2 tbsp clarified butter to it. Turn on the flame and let the butter melt on high flame. When heated, turn the flame to low. To check the ghee is hot enough or not? Add a pinch of semolina( Sooji/rava) in it, if it pops-out, ghee is ready. Now add semolina(sooji/rava) and gram flour to the pan. Simmer it till it turns golden brown in color and becomes aromatic. Stir continuously and after 3-4 minutes you will notice that the raw smell of semolina is now disappearing. Now pour a glass of water and add sugar to the pan. Stir continuously with the help of spatula and simmer it again till it thickens on medium flame.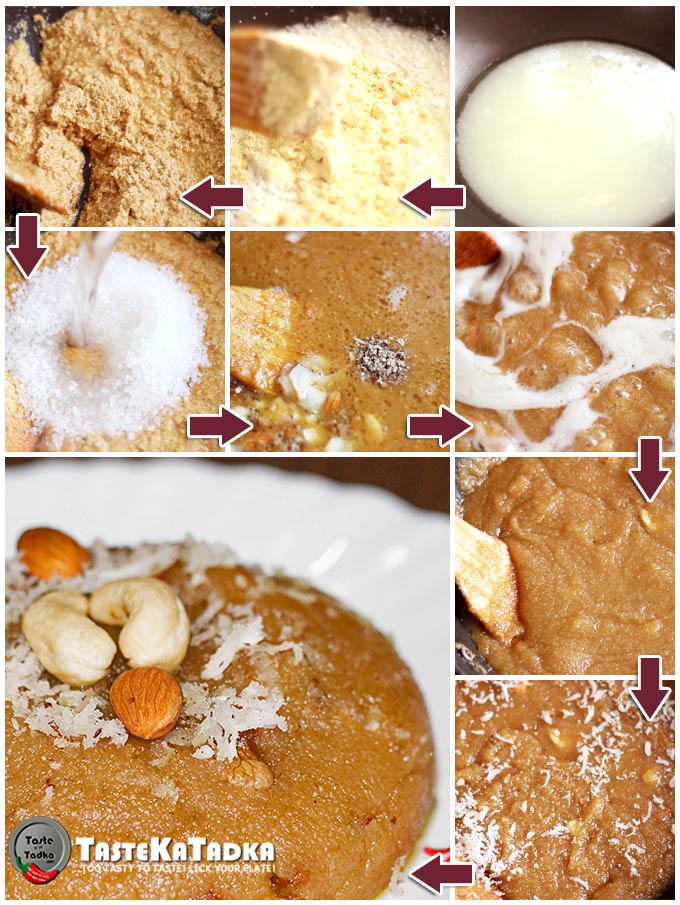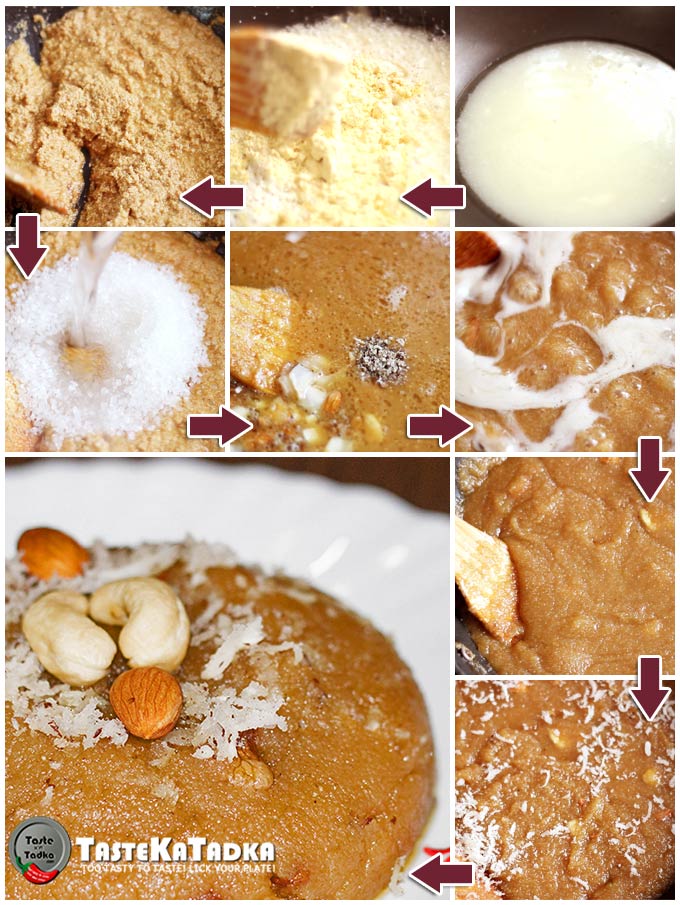 For rava kesari :
You can use mava or milk instead of adding water. If you are using mawa then use home-made mawa. And if using milk, then to enhance the flavour of halwa use full fat milk.
When halwa gets almost dry keep stirring it so that it roast evenly and does not burn in bottom of the pan. Make sure to avoid lumps. Stir continuously and keep scraping the sides of the kadhayi and mix the solid halwa with rest of the mixture. Add 1/2 tsp of cardamom at this stage. Cardamom provides an irresistible aroma. Now add crushed or chopped dry fruits( almonds, cashews and soaked raisins) to the mixture and roast them too for about 2-3 minutes. This whole process will take about 8-10 minutes.
GARNISHING: Garnish it with finely chopped dry fruits, dried grated coconut and saffron strands. Serve with kale chane. Serve it hot for best taste and tell us in the comments how it was. Have a nice day and Happy Navratri!
QUICK STEPS :
Take a heavy-bottomed pan and add 2 tbsp clarified butter (ghee) and melt it.
Now turn the flame to medium and add semolina and gram flour to it.
Sauté it and stir constantly using spatula until it appears golden in color.
Add lukewarm water (You can add milk instead of water) and Sugar.
Boil water and stir continuously.
Add a generous pinch of cardamom powder.
Add almonds, crushed coconut and cashews (you can also use other dry fruits) and mix well.
Simmer it till the liquid is absorbed.
It will take about 8-10 minutes.
Garnish it with almonds and coconut.
Serve Hot.
Serve it hot for best taste and tell us in the comments how it was. Have a nice day and Happy Navratri!