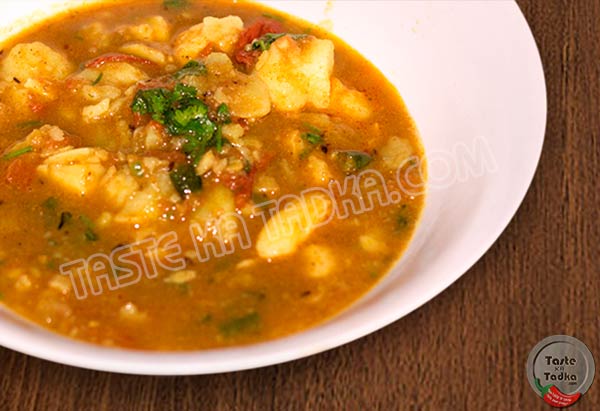 Bhandare wali Aloo Sabzi Recipe | Indian Main Course Recipes :  Today we are going to learn how to make bhandare wale aloo tamatar ki sabzi i.e. potato tomato curry made without onion-garlic. You can also make tamatar wale aloo during navratri fasting or any other fasting days. Potato itself known as the king of the vegetables. We can add any vegetable to the potato like aalu beans, aalu palak , aalu methi, aalu tamatar, aalu matar and many more. It is basically a North-Indian dish (main course). There are no match of Indian sabji and it is one of the most famous Indian sabzi recipes . We also call it aloo tamatar ka jhol.  You can this bhandare wali aloo sabzi in very short time. It is a very quick and easy sabzi recipe. You can have it in lunch or dinner. Usually I have it with pooris and make it on festive also. You can also have it with kachoris. For more aloo sabjis click here.
So let's start with this simple yet tasty recipe – bhandare wali aloo sabzi  step by step.
Bhandare wali Aloo sabzi Video
Prep time: 20 mins  |  Cook time: 15 mins  |  Serves: 2 – 4
INGREDIENTS FOR bhandare wali aloo sabzi  :
Potatoes – 4
Tomatoes – 4
Green chili – 2-3
Cumin Seeds – 1 tsp
Oil – 2 tbsp
Salt – to taste
Black Salt – 1/4 tsp
Asafoetida – 1/2 tsp
Red Chili Powder
Turmeric Powder – 1/2 tsp
Coriander Powder – 2 Tsp
Garam Masala – 1/2 tsp
Coriander Leaves
How to Make bhandare wale aloo sabzi?
QUICK STEPS :
Take 3-4 potatoes and rinse them.
Boil potatoes till they get completely cooked and peel them.
Crumble the potatoes with hand when they get enough cool to touch.
Chop green chilies and coriander leaves finely and keep aside.
Rinse tomatoes and chop them too.
Now take a pan and turn on the flame.
Add 2 tablespoon of oil to it and let it heat.
When done, add 1 teaspoon of cumin seeds and ½ teaspoon of asafoetida.
Allow them to sizzle.
Add 1/2 tsp turmeric powder.

Now add finely chopped tomatoes and mix well.
Sauté till they become soft.
Now add spices – red chili powder, coriander powder, salt(to taste) 1/4 tsp black salt and finely chopped green chilies.
Mix all the ingredients well and let it simmer on the medium flame.
Simmer it till you see oil releasing from the sides and the raw aroma of tomatoes goes away.
Now add crumbled potatoes and 1 glass of water to the pan.
Stir well and let it cook for 5-7 minutes.
Simmer for 5-7 minutes more to thicken the gravy slightly.
Add 1/2 tsp garam masala and finely chopped coriander leaves to it.
Our aalu tamatar ki saji is ready.
Garnish it with coriander leaves
Serve hot.
Ready to eat : Serve hot with Pooris, Chapatti or Parantha.